Back again is Towergate's compilation of Top Opposing Firms, based upon the correspondent at filing of all oppositions in 2015. Compared to previous years, there are a number of change-ups in the lineup, and firms not previously noted in our list of years past. Kudos to all!
For the first time, we are showing just the relative rankings of the top 40 opposition-filing firms, without further details given of each of their oppositions. If you'd like further details, please contact us.
One of the most significant changes to note is that the firm Cowan Liebowitz and Latman slipped to second rank, after many years of being the top opposing firm (thanks to MLB). Compared to 2014 and years prior, the firm's numbers have dropped substantially whilst those of Kilpatick Townsend and Stockton have increased. Kilpatrick's oppositions have been mainly fueled by owners Instagram, Oracle, and Occulus VR.
2(d) Citations, refusals, and opposition filings are good benchmarks of your firm's performance relative to other firms within the industry.  Subscribe to our popular 2(d) Citation Watch or Bulk TM Watch  services and watch your IP practice grow!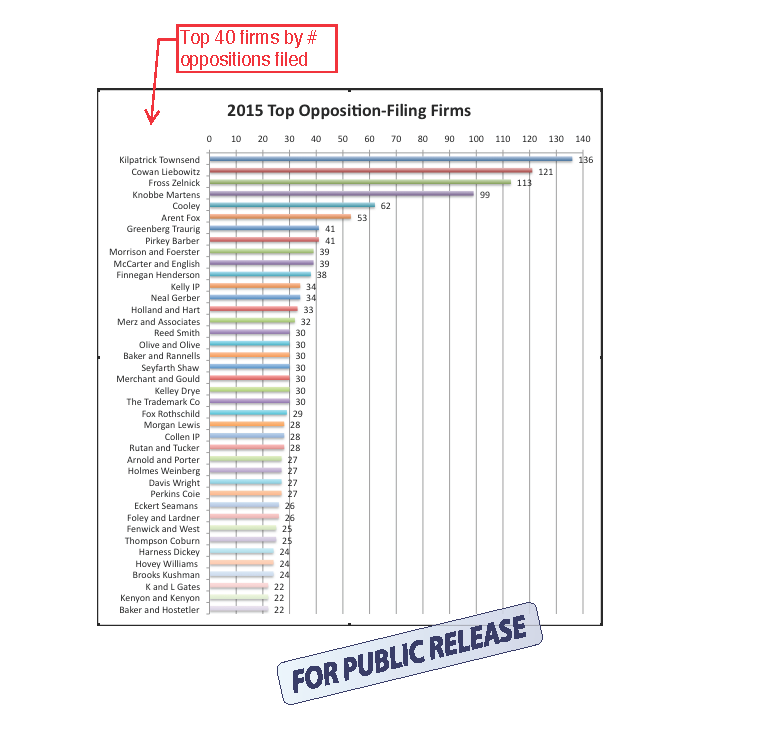 Here's a comparison chart of Top Opposing Firms in 2014.