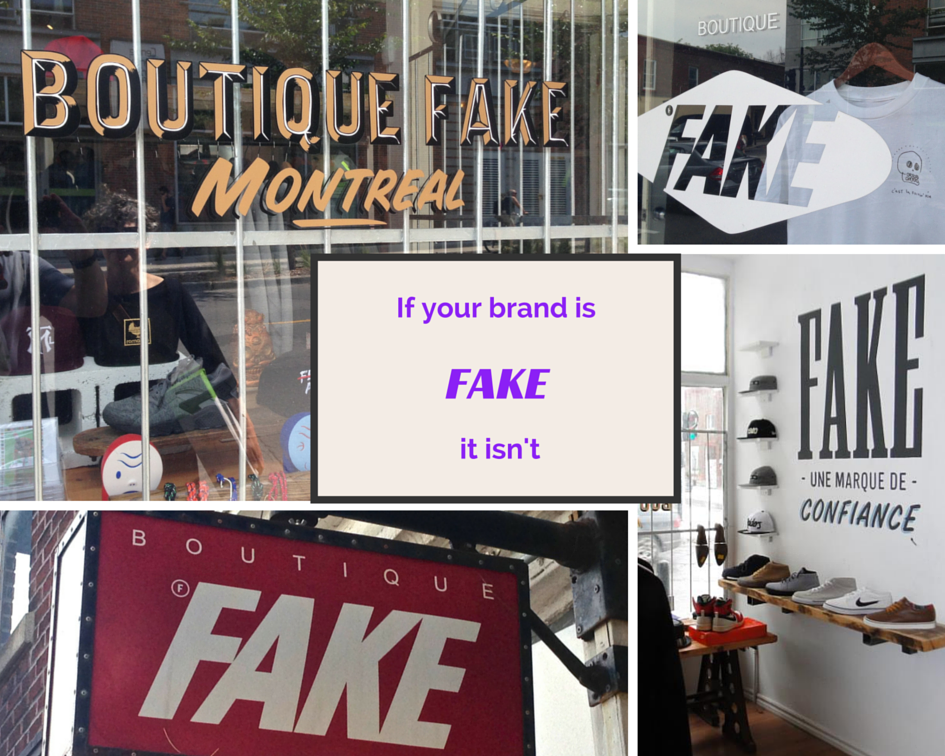 I'm partial to conundrums, I admit. Which makes this find doubly interesting, as on the surface it looks like a clever and playful take on retail fashion branding and trademarks. Perhaps there is more to it than that?
The case in point is a fascinating example because the most obvious expression of the retail experience is antithetical to most; the brand itself. It's unabashedly FAKE. No joke, that's the name! And to prove its veracity there is even an ersatz superscript circle-F at the top-left of the logo (antithetically smart, eh? And soooo NOT top-right!)
According to the meagre publicity I was able to find, the concept here was to offer a counter culture aesthetic/style to a young and urban male generation; one that elicits strong reactions. Many of their clothing products are satirical knockoffs that mock a variety of luxe brands. There are signs that denote FAKE is "faux real" and a "marque de confiance" (a trusted brand). It's very creative, to be sure. Subversive, even.
What you also need to know is that the entire concept and reality of the establishment has been backed to some degree by a mysterious group called The Medium, a self titled multi-media artist collective. OK, so they've got loads of veritable street cred.
But below the surface one realizes that, at some point, the FAKE counter-brand is the brand itself. It has realized the purposefulness of its existence, and come full circle. Subversion, that itself has been subverted (perhaps by its own success). It's a slippery slope. That's the conundrum. Is it therefore, still subversive?
In any case, FAKE is fun, and ironically it's brand centric, despite its best intentions. I can't help but be humming the Circle Game song (the original, of course).