As many have come to expect, here is a summary of our annual compilation of firms that filed the most oppositions in 2013*.
To see a detailed report for each of the Top 30 firms, showing plaintiffs, defendants and case links, ask us for a copy of our full report (pdf file). Request your copy.
Aside from the Top 4 opposition-filing firms which stand out significantly from the crowd, the differences between most of the firms are very close indeed. There are actually 87 firms that rank within the Top 30 opposition filers; those that filed at least 15 oppositions last year. Also noteworthy is that the Top 5 represent almost 12% of all TTAB oppositions filed in 2013 (over 5,400 oppositions filed in total).
* Based upon correspondent at filing
Note: The chart shown here includes only the Top 20 ranked firms. Our complete list of the Top 30 ranked firms by oppositions filed (including links to each individual TTAB case) is available upon request.
Scroll down to see additional analysis below
Subscribe to our popular 2(d) Citation Watch or Bulk TM Watch services and watch your IP practice grow!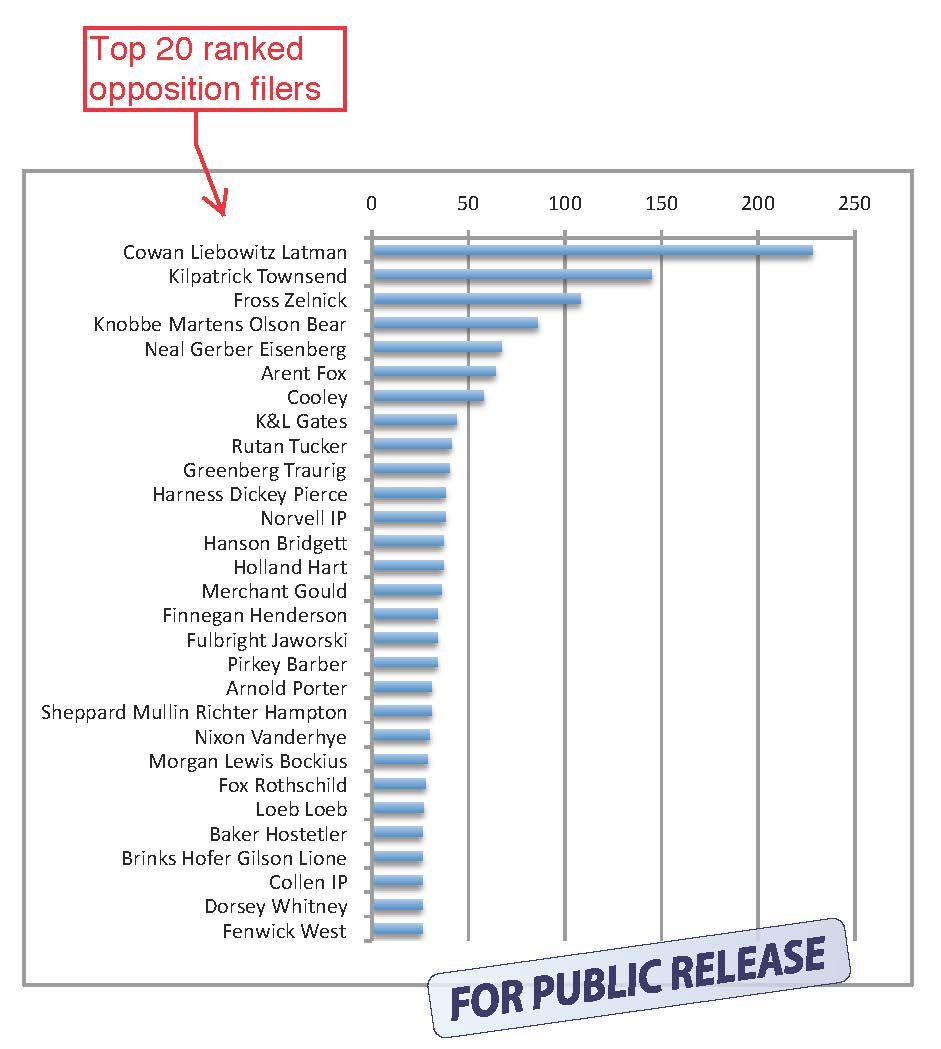 Looking more closely at the actual composition of the opposing parties within each firm's portfolio, several general attributes come to light.
For many of the Top 20 ranked firms (by oppositions filed) there are one or two key clients that are responsible for the majority of the oppositions filed. For example, Cowan Leibowitz has had most of their oppositions for many years now due to Major League Baseball and many of their associated teams. Knobbe Martens has filed a slew of oppositions for Monster Energy, and likewise Neal Gerber for Beats Electronics. All of Hanson Bridgetts' oppositions filings are due to a single client. Whereas firms like Kilpatrick Townsend and Fross Zelnick have a good mix of clients they represent as opposers, without any particular standout accounting for the majority of their opposition filings.
So it may be further insightful to analyze how firms rank if we express their opposition work not by the sheer number filed, but by a relative ratio of the number of different clients within their opposition portfolio to their total number of oppositions filed. Essentially, this metric becomes a client-opposition variability ratio, an indicator of the breadth of the firm's opposition portfolio.
Following this logic, we have re-charted below these same firms using this variability metric to compare how they rank with respect to oppositions filed based upon the number of different clients they represent as opposers. This results in a levelling of the playing field, so to speak, and firms in the middle of the pack with respect to overall opposition filings, such as Dorsey Whitney and Morgan Lewis Bockius, rise to the top due to the relative breadth of their client base, while some of the aforementioned firms fall considerably within the list.
Is this any fairer a method of comparison? As any attorney will attest to, it's all relative.